Because of Corona virus, we decided to accept online lesson applications on weekdays besides Sunday. If Sunday lessons are fully booked or you can't attend available time-slots on Sunday, write your preferred time and date (Japan time) in "Request, Question" of the application form.
Time Zone Converter – Time Difference Calculator
https://www.timeanddate.com/worldclock/converter.html
Tuition
(1 hour /lesson)
(Trial class is 4,000 yen)
20,000 yen /4 lessons
40,000 yen/8 lessons
60,000 yen / 12 lessons
Schedule Every Sunday 10:30- 20:30 Japan time.
All lessons will be held at Manga School Nakano online. (Video chat with Zoom). This is a 60-min. private lesson.
There is no pre-requisite for enrolling into this class.
We welcome students at all levels. (Our youngest student we had so far, was an 8 year old boy). Guardians are welcome to attend with students. For details, please visit our program page.
You can check the booking situation on the first entry of this blog. There is a schedule calendar in the bottom, check "Sunday"'s schedule. "Busy" means has been booked.
Student can establish the focus of each session with the instructor. For instance, they can choose to create or design a new character, creating a story, the rendering style of one or a set of characters, etc. A goal will be given to the students for each lesson.
Student should also expect to be given some homework which will help to reinforce what was learnt.
All classes will be hosted via Zoom with the webcam on both the instructor side and the student side. Using a webcam, the teacher can demonstrate live drawing as necessary, and student can also share their work with the instructor in real-time. (recommended).
To enrich the one-on-one experience, course material prepared by the instructor for all private lessons and the recording of all private lessons will be made available to all students.
All lessons will be recorded, and you can DL it from your google drive
. The data will be overwrote every week, so if you'd like to keep it, DL it in your local folder.
All the drawings which the teacher produced during a session will be scanned in high resolution (200-400 dpi) and stored in Goodle drive. Students will be given the access to all course materials including all drawings done by the instructor during the lessons. (Part of the drawing in low resolution may be posted on School website)
Students will be asked to scan and upload their work onto the Google Drive for the instructor. All scanning should be done at 300 dpi and save in JPEG format.
*Students = long term students or the students who had taken more than 4 (individual) lessons.
Time Table
10:30-11:30, 12:00-13:00, 13:30-14:30 or 14:00-15:00, 15:30-16:30, 17:00-18:00 (18:30-19:30 19:30-20:30) Japan Standard Time (UTC+09:00).
() is on request
.
The class is open
Saturday
, Sunday,
Monday
.
The lesson is 60 minutes long, once a week.
Tuition /Payment
All payment must be made at least 48-hours prior to the lesson. We accept PayPal as a payment method. The fees for weekly lessons is as follows( plus PayPal fee)
(Trial lesson is 4,000 yen)
20,000 yen /4 lessons
60,000 yen / 12 lessons
Once you decided your class, Manga School Nakano sends money request email. You can pay with PayPal or your credit card.
Payment of a lesson can be put forward to a subsequent lesson if a cancellation was provided 24-hours prior to a scheduled lesson. If a cancellation was made within a 24 hours notice, only 50% of the charge will be available to be used for future classes.
There will not be a refund for classes that students have missed without prior notification. Manga School Nakano will evaluate exceptions if there are unavoidable circumstances.
Manga School Nakano will send out any cancellation notice 48 hours prior to a class((Or shorter notice in the event of unforeseen circumstances). The tuition will be carried over to the following lesson.
One month's notice is required in advance of a student exiting the program.
The remaining portion of the tuition fees will be send to the student. This will be done via
Paypal or bank transfer, but the school may retain processing fees from the final balance to
be paid out.
A student can book a 1, 4, 12 lesson course. (1 week, 1 month, 3 months). Either way, he/she can pay every time before each class, or entire tuition of 1 month / 3 months.
2)
Manga School Nakano emails you your schedule and payment request for tuition. You can pay with paypal or credit card. (Online lesson)
3) Once you receive a payment-confirmation e-mail from the school, your booking is completed.
*
At the moment, we are recruiting 6-8 people. If we have too many,
applicants will be
booked on a first come, first served basis.
Or we might suggest a different lesson time to you.
Please pay your tuition at least 24 hours in advance. After confirmation of payment, your booking becomes valid.
========================================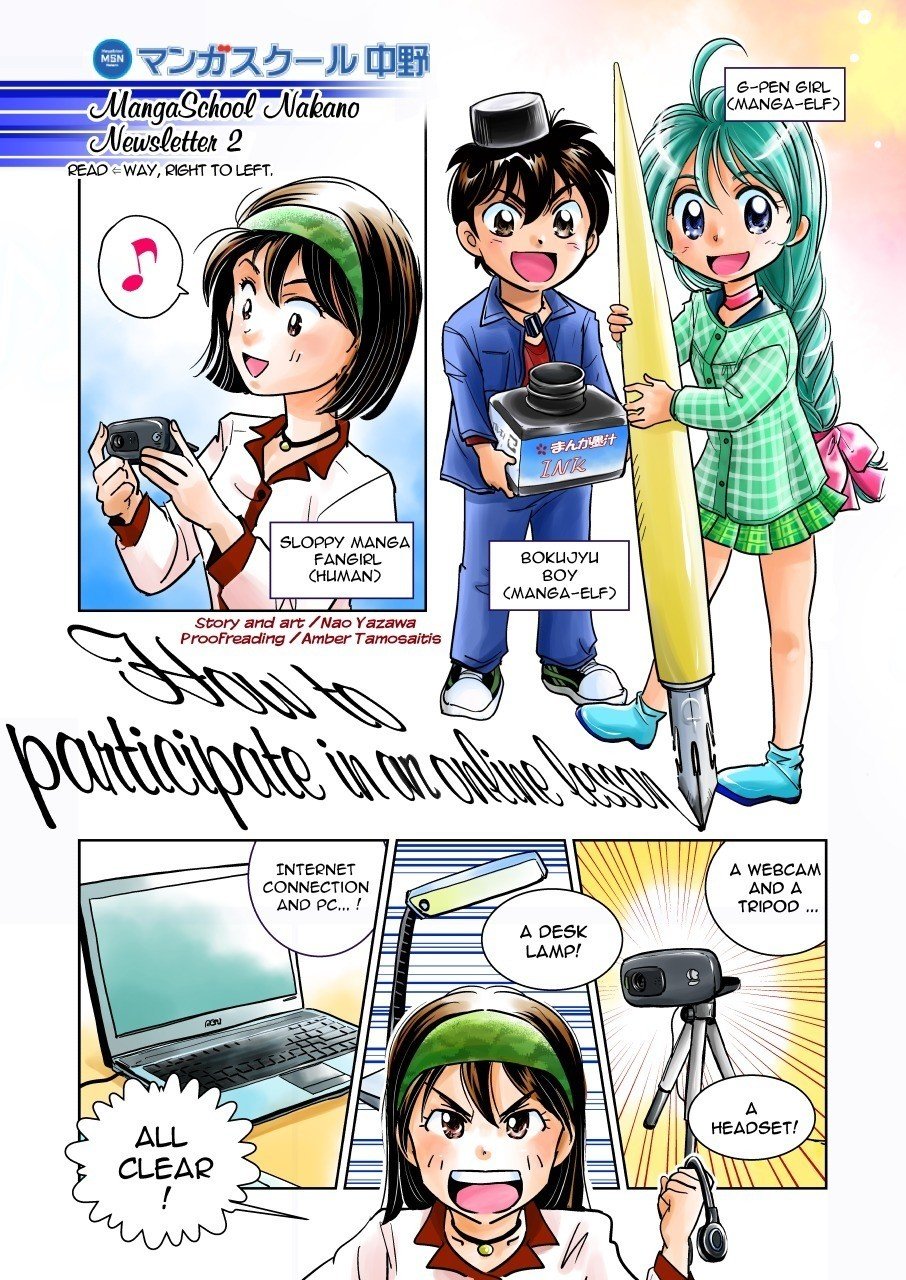 What you need to attend an Online class?
PC
High-speed Internet Access
(To film the student's work. Not strictly necessarily, but you may not get as much out of the
lesson without it.)
Pencil/mechanical pencil lead should be more than B or darker. (should be dark enough for webcam filming)
Manga Tools (Basic)
==============================================
By participating in Online Classes run by Manga School Nakano, a student agrees that
Manga School Nakano may use class videos in which they may appear, as presentation
and promotional material, which may be used at the discretion of Manga School Nakano in
broadcast, in print and in other digital media.